Winnie is not a Puppie maker machine anymore !!!
Winnie was used as a backyard breeding dog. She lived in a yard 24/7 and never knew love. Winnie lived in dirt with hardly any shelter. She was used by people to produce puppies every possible chance until the point where she could no longer produce milk. People do this to have puppies and sell them for a profit, these people are NOT legit breeders and unfortunately this happens all the time.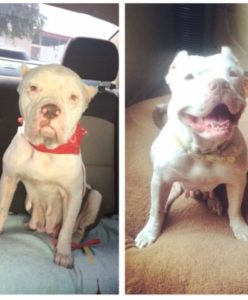 We see these types of dogs at the shelter every day. They are used and put on rape stands so they can not move or fight it and bred until they no longer can produce milk. Once they no longer produce milk they are either dumped at the shelter or let loose on the streets because they can no longer have puppies and make people money.
Winnie was rescued by me (Nicole) one day before they euthanized her at Maricopa County animal care and control. I always recommend people check local 501c non profit rescues or local shelters for a dog vs buying them from breeders and on craigslist.
Every day in
Phoenix
 over 500 dogs are euthanized daily. Currently in order for every dog in Arizona to have a home means every human must own 7. If there are 3 people in one household they would need to own 21 dogs to keep up with the over population in our state due to over breeding and backyard breeding just like Winnie.
If Winnie's story really touched you, take on mind those places, when you find a dog or when you think to get one.
The Best 5 Local 501c non profit rescues in Arizona:
 Autor: Nicole Jacobs
The King Carpet Cleaning Blog Volunteer.